10 Powerful Truths to Remember About God During the Coronavirus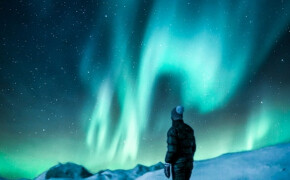 Though uncertainty abounds during this time of our lives, God, who He is, and how He acts is eternally certain.
During a crisis it is so easy for us to focus on everything that is happening in the world, and all around us, and to take our eyes off the Lord. Almost every day we can be consumed with how many new cases have moved into our area or what steps the government is taking during this time.
And there is nothing wrong with being concerned for our health and safety and that of our family and nation, and friends and the world. But we must not forget to keep our eyes on the Lord. To make God our main focus. Here are 12 critical and powerful truths about God to remember and regularly call to mind during these times.
Truth About God #1: God is sovereign
…for I am God, and there is no other;
I am God, and there is none like me,
declaring the end from the beginning
and from ancient times things not yet done,
saying, 'My counsel shall stand,
and I will accomplish all my purpose Isaiah 46:9-10
Our God is in the heavens;
he does all that he pleases. Psalm 115:3
God is on his throne. He is in complete control of every single thing that happens on this earth. Nothing can happen unless he allows it. He is not taken by surprise by this virus. It cannot spread a single iota beyond what he allows. Our God is in complete control of every single atom in the universe. He knows the beginning from the end. He knew when this would begin and he knows when he will bring it to an end.
Satan may possibly be behind this virus but remember that in the book of Job Satan had to ask God's permission for every single thing he did to Job and when God allowed Satan to afflict Job he set boundaries. He said, "You may do this and this but you may not do this." God is in complete control.
Truth About God #2: God is infinitely greater than this virus
He determines the number of the stars;
he gives to all of them their names.
Great is our Lord, and abundant in power;
his understanding is beyond measure. Psalm 147:4-5
God is infinitely greater than Satan and all the demons of hell. He is infinitely greater than all of the angels in heaven. The whole universe is but a speck compared to him. He can bring this epidemic to an end whenever he desires because he is all powerful. It cannot last 1 second longer than he allows.
Truth About God #3: God has a purpose for anything and everything he allows
Many are the plans in the mind of a man, but it is the purpose of the Lord that will stand. Proverbs 19:21
The Lord has made everything for its purpose, even the wicked for the day of trouble. Proverbs 16:4
The counsel of the Lord stands forever, the plans of his heart to all generations. Psalm 33:11
God has a plan. This wasn't by accident. And God's plans for his people are always good plans. For I know the plans I have for you etc. because so many of us have had our "plans" disrupted – perhaps plans to travel, our daily plan to go to work etc. we may feel I'm happy about it but God has plans to use this for our good and his glory.
We can't possibly fathom why God would allow such a horrific plague, but he has a purpose for allowing it, and he is completely wise. This isn't some random event happening in the world. "The Lord has made everything for its purpose…" Someday in heaven we will see how this pandemic fulfilled God's purposes.
Truth About God #4: God causes all things to work together for good for his children
And we know that for those who love God all things work together for good, for those who are called according to his purpose. Romans 8:28
We may not be able to see how a worldwide disease can be working for good for us but God's word tells us it is.
What are some ways God could be working this for our good? He is causing us to look to him and trust him in ways we have never had to before. He is building patience into us as we hunker down and do our social distancing. He is reminding us of our total dependence on him. He is stirring us to cling to his Word and his promises. He is causing us to appreciate how blessed we have been for so many years to never experience anything like this before. And a thousand other things he is doing.
Truth About God #5: God is infinitely good.
The Lord is good to all, and his mercy is over all that he has made. Psalm 145:9
Oh, taste and see that the Lord is good! Blessed is the man who takes refuge in him! Psalm 34:8
Because God sometimes allows evil does not mean that he is not good. God allowed Joseph's brothers to sell him into slavery and affliction in Egypt but down the road Joseph saw that God had a loud it for good, for the salvation of multitudes during the famine, Including his brothers who had sinned against him and their families.
God is always perfectly and infinitely good. We may wonder how could a good God allow us to suffer like this? We don't always see how God can be good in this life. But we must trust his word. He is always good and never wavers from being good.
Truth About God #6: God desires to save multitudes
But do not overlook this one fact, beloved, that with the Lord one day is as a thousand years, and a thousand years as one day. The Lord is not slow to fulfill his promise as some count slowness, but is patient toward you, not wishing that any should perish, but that all should reach repentance. 2 Peter 3:8-9
God is so patient and forbearing. He could have destroyed the human race with plagues centuries ago. But he has withheld so much evil, because he is patient with us, not desiring for any human to perish, but that all should reach repentance. Perhaps one of his reasons for allowing this is to cause many to turn to him for salvation. Let us pray to that end – that this virus will cause multitudes to turn to God and be saved.
Truth About God #7: God hears every single prayer we pray
We may feel like our prayers are puny and weak compared to this massive, worldwide sickness. We may feel like we are standing in front of a Tsunami, and trying to blow it back with a paper hand fan.
But the God tells us our prayers are powerful.
…The prayer of a righteous person has great power as it is working. Elijah was a man with a nature like ours, and he prayed fervently that it might not rain, and for three years and six months it did not rain on the earth. Then he prayed again, and heaven gave rain, and the earth bore its fruit. James 5:16-18
And without faith it is impossible to please him, for whoever would draw near to God must believe that he exists and that he rewards those who seek him. Hebrews 11:6
Truth About God #8: He delivers us from evil, including sickness and disease.
And lead us not into temptation,
but deliver us from evil. Matthew 6:13
He who dwells in the shelter of the Most High will abide in the shadow of the Almighty. I will say to the LORD, "My refuge and my fortress, my God, in whom I trust. For he will deliver you from the snare of the fowler and from the deadly pestilence. Psalm 91:1-3
Jesus demonstrated what God is like. He healed every disease. He healed thousands. He opened blind eyes and deaf ears. He healed lepers and cripples. He hasn't changed. He is still a healer. He still delivers from evil.
Truth About God #9: God is always with us and he will never forsake us.
When you pass through the waters, I will be with you; and through the rivers, they shall not overwhelm you; when you walk through fire you shall not be burned, and the flame shall not consume you. Isaiah 43:2
Just as God was with Shadrach, Meshach, and Abednego when they were in the fiery furnace, so he will always be with us, no matter what we have to go through. Whether we're locked down in our homes, or in a hospital, or anywhere else, God will be with us. He will never leave us. And he will eventually take us home to be with us forever in heaven.
Truth About God #10: Someday he will wipe away every tear from our eyes
He will wipe away every tear from their eyes, and death shall be no more, neither shall there be mourning, nor crying, nor pain anymore, for the former things have passed away." Revelation 21:4
Someday we will have no more sickness. No more pain. No more sadness. No more tears. No more fears. We will be at the marriage feast of the Lamb, gazing upon the infinite beauty of the One who saved us from our sins, sustained us through every affliction, and brought us to himself in heaven. The coronavirus will only be a faint memory if we remember it at all.
Let us try our best to keep our focus on God in the midst of all the news and struggles we are going through. He is our delight, our protector, and our deliverer.